Modules are the various types of content that can be created or uploaded into a course. The learner will become complete for the course when each of the modules in the course are complete. Each module type is responsible for providing just one type of content.
There's no limit to the number of courses or how much space you can use, however there is a limit of 60 modules per course. If you require more than 60 modules for your course, we recommend that you group them into courses and put those courses in a Learning Path.
Module Types, File Type and Size Requirements
There are three ways to add modules into courses: Upload, Create, and Browse.
Upload Module Types and File Type and Size Limitations
Audio (.mp3) = 100 MB

Word Docs – (.doc, .docx) 30 MB

Video – Upload a video file (.avi, .wmv, .mpg, .mov, .flv, .m4v, .mp4 of max file size: 1 GB) – The video will be viewable in a similar format to that of YouTube but is secure so that only the assigned users can see it.

PowerPoint (.ppt, .pptx, or Keynote saved as PDF or a PowerPoint Format) – Upload your presentations (max file size: 30 MB) and they will be viewable online without requiring users to have PowerPoint installed on their computer

AICC/SCORM/Tin Can– Upload a SCORM 1.2 or 2004 (1st and 2nd edition) version compliant zip file. Max file size is 1GB

Additional References for Courses: Any file type allowed (with the exception of .exe, js, .xml .py and any code type files) = 250 MB
Tip: Please remove the special characters from the file name prior to import, including files imported to the Content Author: < > : " / | ? *
Create Module Types:
Assessment – Create an assessment containing Multiple Choice, Keyword, and Free Text / Essay style questions

Survey – Create a simple survey using a mixture of different question types to gauge the effectiveness of your course, or just find out more about your trainees.

Page of information – Create a page of text or an intricate page with HTML.

Live Session or ILT – Track and manage your classroom and webinar live training for synchronous or blended learning.

User Checklist – Have your learners mark off items or have your administrators evaluate your learners.

Embed – Use this option to embed publicly available content from other websites such as YouTube or SlideShare.

Link to another website – IFrame content from another website into your Litmos instance

Learner Upload Module – Allows learners (or admins on behalf of the learner) to upload files of various types, up to 3 files per module, no larger than 250 MB in size, each. See the Learner Upload Module section.

Video Assessment – Allow learners to upload or record a video that fulfills the directions listed for the assignment. See the Video Assessment Module Type Overview section.

Esignature – Capture Learner consent to acknowledge and agree to terms, policies, contracts, and important requirements and stipulations related to the training content the Learners are consuming. See the Esignature Module section.

Content Author – Allows users to create dynamic and visually appealing SCORM 1.2 content within the LMS.
Browse Module Type (Copy/Link/Mirror function)
Duplicate ('Copy') or Link – Use this option to include a module that you have created in another course. If a module is "Linked" between one or more courses the trainee will only have to complete it once. If you want to use most of a module contained in another course but add a little extra to it, you should use the "Duplicate" option.
IMPORTANT NOTE: The ILT, User Checklist and Leaner Upload modules will not be available in the browse section. If you need to add any of these 3 module types into your course, they must be created in the course
How to Create a Module
Create a Course or select one to add additional modules to.

Open the Content sub tab of the Course (by default, this is the first tab selected when opening a course).

Select "Add Content".

Select if you want to Upload modules, Create modules or Browse modules.

Select the file or module type to add.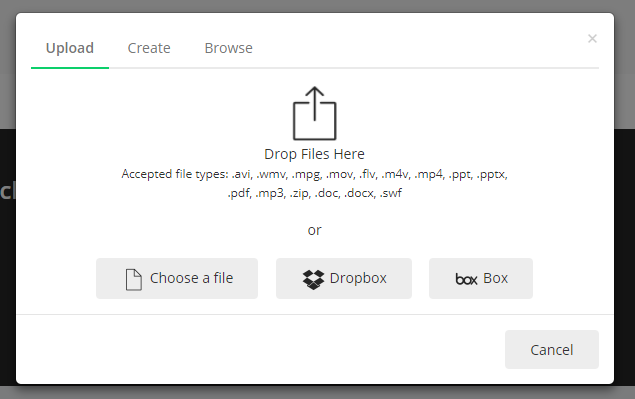 To Edit an Existing Module
Select an existing Course.

Navigate to the Content sub tab of the Course (by default, this is the first tab selected when opening a course).

Select the title of the module to update.

Make the changes necessary and click Save.
Modules can also be Created/Managed/Downloaded from within the Module Library at: Courses tab,>Modules. See the Module Library Overview section for more information.
Important Note: When you make changes to an existing module, you'll need to decide whether you want learners who have already completed the module to go in and review the updates. If so, you'll want to select the module setting of: 'Change affects up-to-date status and the course will be placed back on Learner's To-Do list'. This setting does not affect completion results. Instead, when this feature is selected, the module stays complete if a learner was complete, but the course moves back to the learner's to-do list showing a 'Course Updated' tag. Admins will see 'Not up to date' for the learner at the course's People subtab and in reports. Once the learner has reviewed the updated module, the updated flags will be removed in all views. The learner does not gain a new completion date since the module was already complete. For Assessments and Surveys, this setting can be found at the bottom of each question.
Module Settings
Title – Title of the Module

Description – Description of the module

Active – Activate or deactivate the module to show or hide the module from learners

'Change affects up-to-date status and the course will be placed back on Learner's To-Do list' – When checked, completed courses will show back on the Learner's To Do list with a "Course Updated" tag so that the learner will review the still complete, but updated module.

Send email to learner once the module is completed – Send an email to the learner when the module has been marked complete.
For more on this, check out the "How To: Use the Upload, Create and Browse Course Building Functions" course in Litmos Dojo.